Torque Converter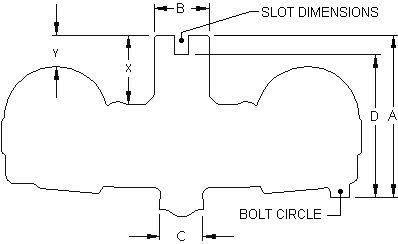 Hub Dimensions (B dimensions on image)
Converter Type
Lower Limit
Upper Limit
P.G., TH350, TH400, 727
1,872 inch
47,55 mm
1,875 inch
47,63 mm
TH2004R, TH700R4
1,745 inch
44,32 mm
1,748 inch
44,40 mm
4L60E, 4L60E w/ LS1 (300mm)
1,745 inch
44,32 mm
1,748 inch
44,40 mm
Ford Lower Hub
1,992 inch
50,60 mm
1,996 inch
50,70 mm
Ford Upper Hub
1,982 inch
50,34 mm
1,986 inch
50,44 mm
904
1,495 inch
37,97 mm
1,498 inch
38,05 mm
Pilot Dimensions (C dimensions on image)
Converter Type
Lower Limit
Upper Limit
P.G., TH350, TH400
1,700 inch
43,18 mm
1,703 inch
43,26 mm
TH2004R, TH700R4, 4L60E
1,700 inch
43,18 mm
1,703 inch
43,26 mm
Ford Big Block
1,847 inch
46,91 mm
1,850 inch
46,99 mm
Ford Small Block
1,372 inch
34,85 mm
1,375 inch
34,93 mm
727, 904
1,807 inch
45,90 mm
1,810 inch
45,97 mm
904 Early Model
1,547 inch
39,29 mm
1,550 inch
39,37 mm
Overall converter lengths (A dimensions on image)
Converter Type
Lower Limit
Upper Limit
P.G., Turbo
6,120 inch
155,4 mm
6,150 inch
156,2 mm
2004R, 700R4, 4L60E
5,844 inch
148,4 mm
5,874 inch
149,2 mm
4L60E w/ LS1 (300mm)
6,620 inch
168,1 mm
6,640 inch
168,7 mm
Pan Fill C-4, C-6, FMX, AOD
5,895 inch
149,7 mm
5,925 inch
150,5 mm
CF C-4
5,620 inch
142,7 mm
5,650 inch
143,5 mm
727 NLU
5,400 inch
137,2 mm
5,475 inch
139,1 mm
904 NLU
5,345 inch
135,8 mm
5,375 inch
136,5 mm
Hub Slot Widths and Depths
Application
Width
Depth
Turbo 350, 400, P.G., 700R4, 4L60E and 2004R
0,402 inch
10,21 mm
0,501 inch
12,73 mm
TF 727 and 904
0,400 inch
10,16 mm
0,625 inch
15,88 mm
Hub Slot Dep (this dimension should also be considered on Torqueflite converters,
(D dimensions on image)
Converter Type
Lower Limit
Upper Limit
904, 727
4,810 inch
122,2 mm
4,840 inch
122,9 mm
Hub length (X dimensions on image)
Converter Type
Hub length
TH700R4 10" S-10 (245mm)
2,250 inch
57,2 mm
4L60E w/ LS1 (300mm)
2,345 inch
59,6 mm
TH2004R, TH700R4 lock-up
2,000 inch
50,8 mm
11" P.G.
2,125 inch
54,0 mm
All Fords with F-30 hub
2,313 inch
58,7 mm
Hub to converter top dimension (this should be considered on all Torqueflite converters, to insure that no interference is encountered with the pump
(Y dimensions on image))
Converter Type
Hub to Converter
11" Torqueflite 727
1,000 inch
25,4 mm
12" Torqueflite 727
0,813 inch
20,6 mm
11" Torqueflite 904
0,938 inch
23,8 mm
10" Torqueflite 904
1,000 inch
25,4 mm
10" Torqueflite 727
1,125 inch
28,6 mm
Bolt Circles
Converter Type
Bolt Circle
Chrysler
10,000 inch
254,0 mm
GM Small
10,750 inch
273,1 mm
GM Large
11,500 inch
292,1 mm
GM LS1 (300mm
11,000 inch
279,4 mm
Ford Mustang II
9,375 inch
238,1 mm
Ford Small
10,500 inch
266,7 mm
Ford Large
11,438 inch
290,5 mm
Fluid Capacity
| Size of converter | Number of quarts |
| --- | --- |
| 13 inch | 5 qts |
| 12 inch | 4 qts |
| 11 inch | 3,5 qts |
| 10 inch | 3 qts |
| 9 inch | 2,5 qts |
| 8 inch | 2 qts |
| 7 inch | 2 qts |
Runout - runout should be less than 0,25 mm (0,010 inch).
Balance - should be checked with the turbine in at least three positions. This insures that the converter will not be internally out of balance. Overall balance should be held within 10 grams.
Internal Dimensional Standards:
Fit of pilot bushing - 0,10 mm-0,20 mm (0,004 inch - 0,008 inch) typical.
Turbine clearance specifications
Torque Converter Nominal Size
Turbine Clearance
7.0 inch(178,0 mm)
0,080-0,090 inch
2,03 - 2,29 mm
8,0 inch(203,0 mm)
0,075-0,085 inch
1,91 - 2,16 mm
9,0 inch(229,0 mm)
0,090-0,100 inch
2,29 - 2,54 mm
10.0-12.0 inch(254,0 - 305,0 mm)
0,100-0,125 inch
2,54 - 3,18 mm
Spline locations
Converter Type
Hub to Stator distance
Hub to Turbine Spline
G.M.Powerglide
3,000 inch
76,20 mm
4,500 inch
114,30 mm
G.M.Turbo 350 and Turbo 400
3,050 inch
77,47 mm
4,550 inch
115,60 mm
G.M.Turbo 2004R
2,375 inch
60,58 mm
3,650 inch
92,71 mm
G.M.Turbo 700R4
2,375 inch
60,58 mm
3,400 inch
86,36 mm
4L60E w/ LS1 (300mm)
2,705 inch
68,70 mm
4,650 inch
118,11 mm
FORD C-4
3,188 inch
80,98 mm
4,750 inch
120,65 mm
FORD C-6
3,188 inch
80,98 mm
4,750 inch
120,65 mm
FORD AOD
3,250 inch
82,55 mm
4,550 inch
115,57 mm
CHRYSLER 727
2,800 inch
71,12 mm
4,050 inch
102,87 mm
CHRYSLER 904
2,800 inch
71,12 mm
4,200 inch
106,68 mm
Material standards
| Parts | Material (minimum standards) |
| --- | --- |
| Hub | 1018 Steel |
| Turbine Spline | 1018 Steel |
| Inner Race | 52100 or 8620 Steel * |
| Outer Race | 8620 Steel * |
| Pilot | 1018 Steel ** |
* Requires heat treating
** Some require heat treating